If the owner of a forest or wetland wants to earn money, he must regularly cut down trees or have peat cut. In doing so, he destroys the natural ecosystem in which many plants and animals live. Nature is not an economic good: it cannot be bought and sold. That's exactly what the Estonian company Single.Earth, founded in 2019, wants to change: "We are launching a platform where you can trade natural resources as tokenized virtual goods – for example, carbon credits or biodiversity offsets," it says on its homepage. Single.Earth plans to reward owners of largely natural forests with high biodiversity and of ecologically valuable land. Tokens for biodiversity – and for doing nothing, so to speak.
One Merit Token for 100 kilograms of CO2
Single.Earth wants to trade the ecological value of nature in the form of so-called merit tokens. The online platform will generate a Merit Token every time 100 kilograms of the greenhouse gas CO2 are bound in biodiverse nature. The Estonian start-up wants to issue the tokens to landowners, who in turn can sell the tokens on the Single.Earth marketplace. Single.Earth says it is working with landowners who conserve and restore forests, wetlands and other natural resources. Landowners who join Single.Earth can add their land to the platform. The merit tokens are to be purchased, for example, by companies that use them to offset their carbon footprint.
Single.Earth is supposed to work as follows
Owners enter their land into the Single Earth marketplace.
Single Earth sends biologists to assess the ecological value of the land.
Single Earth evaluates the land into tokens.
Investors buy these tokens and receive carbon offset credits in return.
These investors now legally own a stake in the land.
The tokens generate profits through carbon offsets. But they can also gain or lose value over time. They can be traded like any other commodity.
Single Earth monitors the land via satellites and air quality sensors to ensure that the value of the investment is maintained.
Criticism of other offset projects
So ultimately, the Single.Earth business model is based on allowing companies or even individuals to offset their CO2 emissions. But in an interview with Canadian journalist John Koetsier, Single.Earth founder Merit Valdsalu made it clear what she thinks of many other offset projects: "For example, these tree plantations in places where you clear and then plant new trees, they don't really do anything good for nature." Managing plantations of fast-growing, tokenized trees, for example, is the business model of Polish startup Smart Forest.
Single.Earth aims to digitally map carbon sequestration
A key component of the Single.Earth business model is to digitally map how the platform's lands sequester carbon and preserve biodiversity. According to the company, satellite data, Big Data analytics and machine learning were combined to create this digital representation. Single.Earth calls the representation the digital twin of our planet, or the digital twin of the world's nature.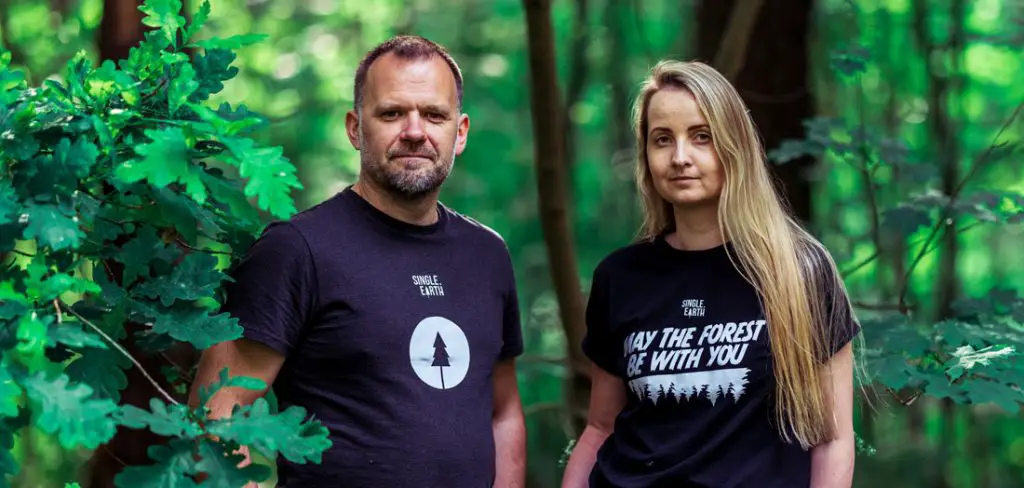 We are working diligently to launch our platform to all of you. We are in the process of building the staff team.

Single.Earth founders Andrus Aaslaid (CTO) and Merit Valdsalu (CEO)
A token trading platform for nature
Other conservation organizations have also jumped on the digital bandwagon: "Non Fungible Animals" is a project of the WWF, which aims to protect endangered animals. Blockchain, tokens and an exchange for the ecological value of forests and wetlands in particular: So those are the ingredients Estonians want to use to reconcile business and nature conservation. The distant vision: In the future, banks and states will no longer secure their finances with gold reserves, but with capital investments that are close to nature.
Until now, gold has been considered a backbone of all financial transactions, writes Single.Earth. This is due to its limited availability and inability to be counterfeited, it says. "From a financial perspective, nature is like gold – we can't mass produce it and its supply is limited to our earth," Single.Earth says. And claims, "We're turning nature into the new gold." The company will have to be measured against this full-bodied slogan.
The idea is there – the launch is a long time coming
But when will the online trading platform actually start operations? At the beginning of September 2021, Merit Valdsalu and co-founder Andrus Aaslaid addressed all those who had already expressed interest with a video message: "We are working diligently on the launch of our platform for all of you," assures Valdsalu. Aaslaid adds that the company is in the process of building up its team of employees and has already filled key positions. The company's chief technology officer continues, "We are also making additional efforts to ensure compliance with various regulations. So our decentralized and science-based approach will bring a new level of transparency and trust to the market."
Are there problems at Single.Earth?
The video message obviously serves to keep supporters and potential investors in line. The accompanying email begins with the words, "Are you eagerly awaiting the big reveal?" Valdsalu and Aaslaid tell the mail addressees that there has been great progress in their project, but that there are still "some pieces of the puzzle to be completed." They also acknowledge the patience of supporters.
It is unclear how credible these statements are. The inquiries of token-information.com at Single Earth for more precise launch dates and some detailed information have so far come to nothing. It remains to be seen whether the fundamental problem is the launch of the "merit tokens". Or whether the secrecy on the contrary indicates that the Estonians are in the hot phase shortly before the launch. In July, they announced that they had raised 7.9 million dollars from investors led by the Swedish venture capital fund EQT Ventures.