Commodities, real estate, works of art or even racehorses: many tangible assets can now be tokenized. Even investors in England or America with smaller budgets can invest in these assets. Particularly in vogue at the moment is the investment in non-fungible tokens (NFT). These are linked to real economic goods and work as follows:
Each such tokenized asset – for example, a photograph – has only one owner
Unlike cryptocurrencies, it is unique and cannot be replicated – in other words, it is correspondingly "non-fungible"
The principle behind it: Distributed ledger technology (DLT) is used to digitize assets that were previously purely physically available. And generated in the smallest percentage shares (tokens) in a blockchain.
Token hype from the USA soon also in Europe?
The global trading volume of NFTs increased from around $12 million to an incredible $500 million from the end of 2020 to March 2021. At the same time, Google search volume for the term "NFT" has reached an all-time high. And the trend continues to rise. A veritable NFT mania has emerged, especially in the USA. There are WhatsApp groups on crypto NFTs. Clubhouse deals with the topic. Celebrities tokenize movies or photos. And not a day goes by without a press release on tokenization. It is to be expected that NFT mania will soon break out worldwide as well.
Key figures of the NFT industry 2021
| | | | |
| --- | --- | --- | --- |
| | 2020 | 2021 | Change |
| Active wallets* | 55 168 | 142 863 | + 159% |
| Buyers | 21 770 | 73 777 | + 239% |
| Seller | 14 643 | 33 377 | + 128% |
| Trading volume in $ | 15.3 million | 2,020 m | + 13,118% |
Source: NonFungible.com 2021 / *any active crypto wallet associated with an NFT project
Critical voices about the NFT boom are increasing
The NFT market is increasingly opening up to crypto laymen and now seems to have entered the mainstream. Critics suspect a well-functioning PR machinery behind it in favor of cryptocurrencies such as Bitcoin. They urge caution. Because of the crypto boom, Frances Coppola, financial and economic commentator in the Financial Times, also warns: "It's all about the desire to get rich. That thought is driving everything in crypto right now." As with cryptocurrencies, NFT tokens like wine are at risk of losses. The hype driven by targeted PR serves to find gullible investors for NFT investments.
Smart contracts for serious NFT investments
The fact is: the market for NFTs in Europe is still in its infancy, in contrast to the USA. It offers many advantages through user-friendly and simple handling that classic forms of investment lack. Today, you can acquire fractions of an asset for as little as a few hundred euros and trade without intermediaries. This is made possible by so-called smart contracts, which work as follows:
Smart contracts are intelligent contracts based on special software.
With it, tokens can be managed effortlessly and under one's own responsibility.
A wide variety of contract terms are stored digitally.
Executions and changes of contractual services adapt automatically.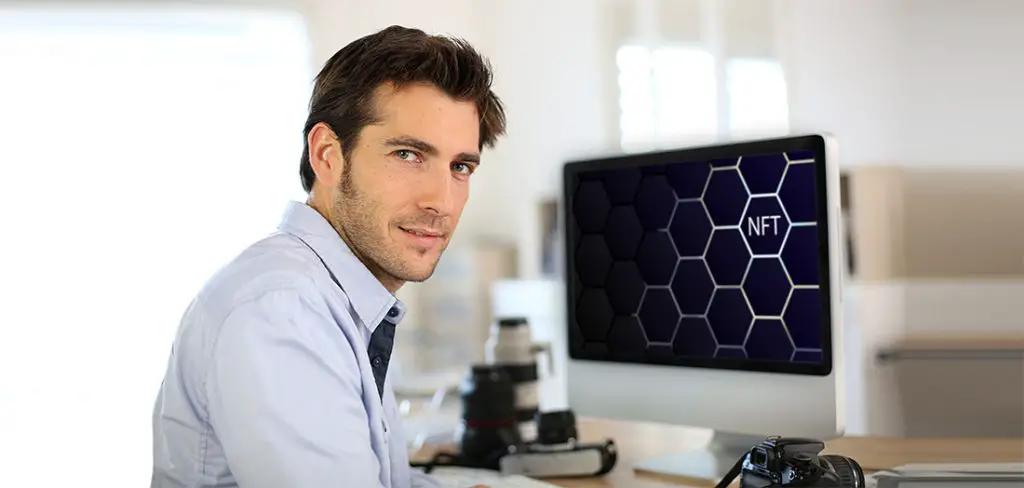 Due to persistently low interest rates, retail investors in particular are looking for completely new and secure financial investments
For them, NFT or asset tokens are a new and also serious variant of financial investment.
FAQ – Frequently asked questions
Which NFT can I invest in?
If you want to invest in NFTs, you should first get an overview of the different sectors. There are NFTs offered in a wide variety of sectors with different objectives. These include mainly the gaming industry, fan items, art and collectibles (cars or watches).
How do I recognize a reputable NFT platform?
To reduce the risk of investing in the NFT sector, experts recommend using so-called NFT index funds (NFTX). Simply explained, NFTX are platforms where users can generate tokens according to certain standards. These are backed by NFT. The most well-known NFT index funds are the CryptoPunks Indexfund (PUNK) and the Hashmasks Indexfund (MASK). The most popular NFT platforms include: Crypto.com, MakersPlace, OpenSea and Foundation.
The financial crisis brought change
DLT and Blockchain as the basic technologies of tokenization have their origins in the last financial crisis. Starting in 2007, market participants around the world had to painfully experience that a centralized financial ecosystem controlled by established banks had significant weaknesses. Increasing rejection and distrust on the part of customers and investors towards these powerful institutions that defined the financial market was the result. As a result, 2009 saw the birth of the blockchain and Bitcoin as the first digital currency. Under the term Decentralized Finance (DeFi), a variety of new digital offerings and applications thus emerged based on the blockchain – including tokenization.
Democratization through transparency
The goal was to use these new technologies to build a decentralized, transparent and trustworthy financial system. It was to escape the control of traditional players (banks or stock exchanges) and function autonomously. Previously, only wealthy individuals were in a financial position to acquire traditional tangible assets. Newly, asset tokens now offer any investor the opportunity to invest in the smallest shares of an asset or tangible asset and thus earn a return. This democratization of asset management opens up real and serious investment opportunities in NFT tokens, especially for retail investors.
Demand for NFTs is still low
Nevertheless, demand from investors in this country is currently still low. Even though a new generation of investors is already on the scene today. These "digital natives" are less conservative and more open to new trends and technologies. A strong legal foundation is also important in their interest, for the following reasons:
It regulates the acquisition and trading of digital assets and tangible assets.
Clear legal requirements counteract the dubious hype surrounding NFT tokens.
And they eliminate doubts among less risk-averse investors in the long run.
"You have to understand with the NFT issue that it is not the artwork that is traded, but the share in it."

Prof. Edmund Schuster, London School of Economics
According to Edmund Schuster, professor of corporate law at the London School of Economics, "These need to understand that it is not the work of art that is being traded, but the stake in it," as he says in the Financial Times.
Acceptance through international standards
Lawmakers and regulators are challenged. Tokenization and its future markets are evolving. This needs legal frameworks and foundations for the economic use of these DLT applications.
In Switzerland, a first part of the DLT law came into force in February 2021. And the German government already launched the blockchain strategy in 2019 and recently the crypto custody license. These are first initiatives in the European economic area. The first goal is to increase legal certainty and reduce hurdles. The aim is to curb abuse by market participants to a large extent. This prepares the ground for more far-reaching and serious tokenization.
Urgently needed legal certainty
Efficient trading venues are needed with the products that attract investor interest. And efficient, uniform and legally secure trading platforms are needed. Regulatory legal certainty leads to broader social acceptance. Asset tokens such as wine, precious stones or art could boost demand, according to financial experts.
In terms of tokenization, this means: Continue to educate and focus on an efficient and trusting exchange with potential investors. The advantages, but also the challenges of this new form of investment must be communicated. It's not about getting rich quick. The PR management on the part of the providers must also recognize this. Otherwise, NFT tokens will remain a PR stunt with no long-term effect.
Art NFTs as a serious form of investment



The first blockchain-based art gallery for artworks is Maecenas. Artists and investors can buy, sell and trade artworks on a liquid exchange. Even million-dollar artworks are broken down into asset tokens. Investors can buy them at a fraction of the price. The artworks remain in the possession of trusted institutions that vouch for the seriousness of NFT transactions